Our Fourth line road location has been very popular and is currently booking 7 months in advance which we did not expect. We've been working hard to expand and double it's capacity. The work has already begun however we are uncertain when we will be receiving our enclosures and therefore when the addition space will be available. We will post again once we have a better idea of when we can expect to take delivery of the enclosures and when we will be making the extra spaces available on our site.   Stay tuned for more
---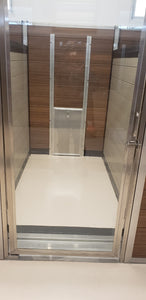 We are expecting our shipment of new kennel Enclosures to arrive to us in early September and be built in mid to late September. The spaces will be availble to book online by late September / early October.
---
Due to the popularity of our Daycare service, we are limiting our daycare service to existing customers only, effective Monday July 4th, 2022.  
---
Starting May 1st 2022, we will have two locations to serve you. Our original location at 5584 Prince of Wales will continue to offer the services your come to enjoy. Our New location at 5673 Fourth Line Road will offer boarding services in a beautiful new, state of the art, facility. We will be updating our site shortly with pictures of the new facility shortly.  
---
You are now able to book multiple non concurrent booking dates in the same booking. How to book: Select the appropriate type of service (Play well with others, etc) Select the date you'd like to book using the drop off / pick up date calendar Click the "Reserve now" button The booking for your selected date(s) is now in your cart You will remain on the day care or boarding page Select the next date(s) you'd like to book Click the "Reserve additional date" button Repeat the steps above for any additional dates you'd like to book When all dates...